Madejanna Meyer (neé Keegan) more commonly known as D.J. is a character on Cherry Hill, portrayed by Tiffany Evans from the first season towards mid-season four, when the producers and Evans decided that she could no longer continue with the role, Lauren London took on the role as of Remembrance Day. In the six year transition, she has married John and has two children with him - Dylan and Simone.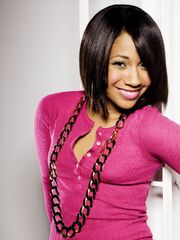 D.J. first appeared in Bad Twin, in which she is introduced as a friend of Austin Elyis, she soon befriends John Meyer , telling him to refer to her as 'D.J.' due to constant mispronounciation of her name. She then warns Austin about Nigel, the guy who Nicholas has befriended and tells him of his reputation. She helps John stop the twins fighting when they encounter Nicholas hanging round with Nigel in the park. She is seen to be best friends with Bella Mendez and later Brandy Halliburton. In Touchdown, she reappears again being used by John and Austin as an excuse for not having to attend the football game, the girls soon find out, however are more than happy to go along with it. However when Nicholas arrives in the park, she and Bella leave the guys to it. In What the Snow Will Bring, John escorts D.J. home and much to their horror, they both share a kiss whitnessed by Lauren, they realise they've made a mistake but the chemistry remains between the two.
In The Truth about Lying, D.J. lies to Bella to get herself alone with John, the two try and talk over what has happened, she advises it would be best the two stay away from eachother. Though her true feelings for him are clear.
In the Season 1 finale, Freefall, DJ and Bella witness the plane crash that lands right near them and narrowly misses them.
Six months later, DJ is dating William Beckett. Will is abusive, and threatens John, who she has begun a steady friendship with now that Bella and John are not dating. DJ is forced to abandon seeing John unless she wants Will to hurt him.